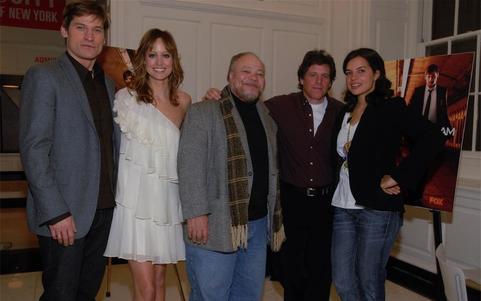 Cast members of New Amsterdam include:
Main characters:
Supporting characters (in alphabetical order):
Additional cast members (to be added in eventually):
Anastasia Griffith: Hannah Cleary
Andre Blake: Nash
Annika Peterson: Olivia Behrendt
Anthony Desio: Bob
Brian Tarantina: Mick
Bridget Barkan: Margaret
Bridget Regan: Daphne Tucker
Bruce Altman: Dr. Lewis Prender
C.J. Wilson: Walt
Casey Siemaszko: Peter Huygens
Chad L. Coleman: Lt. Bobby Graham
Charles Borland: Paul Cleary
Chazz Menendez: Uniform Cop
Chris Bauer: Andrew Gleason
Darren Pettie: Carl Browning
Donnie Keshawarz: Nazir
Edwina Findley: Tara Brown
Erik Jensen: Durst
Isiah Whitlock Jr.: Joe Williams
Ivo Velon: Ivan Brodsky
Jamie Harrold: Mank
Jennifer Van Dyck: Inga Skoll
John Sharian: Jack Shaw
Justin Hagan: Howard
Kathleen McNenny: Catherine
Katie Henney: K. Johanna
Kristin Griffith: Mrs. Carlton
Kristine Sutherland: Didi Gleason
Laura Interval: Kayla Moore
Lizbeth MacKay: Maggie
Marjan Neshat: Charvi
Mark Blum: Dr. Macvittie
Maury Ginsberg: Bachelor #2
Ned Eisenberg: Fiske
Nick Sandow: Frank
Olek Krupa: Viktor Brodsky
Orlando Jones: Sgt. Harold Wilcox
Robert Clohessy: Det. Santori
Rock Kohli: Vendor
Stivi Paskoski: Donny Amadee
Susan Misner: Callie Burnett
Thomas Waites: James Lucas
Tom Mardirosian: Samar
Yolanda Ross: Lily Mae Brown
<< add more characters to help us out here >>
Bold text
Ad blocker interference detected!
Wikia is a free-to-use site that makes money from advertising. We have a modified experience for viewers using ad blockers

Wikia is not accessible if you've made further modifications. Remove the custom ad blocker rule(s) and the page will load as expected.